The packaging design is an important part of your product as it is the first thing the consumer sees in the store or online. When designing packaging, there are many factors that determine whether your product stands out from the competition. This post highlights two important elements of the packaging design process.
Colours; A mean of communication
Colourful elements catch the eye, and for the same reason colour is one of the most powerful means of communication when it comes to packaging.
Colours are symbolic and can create connotations and emotions in the consumer. At the same time, certain colours can reflect values and thus communicate the universe and values of your product. Together with the graphics, the role of colours is to reflect your company's DNA. The visual expression of your packaging therefore tells the consumer about your values, your product category, your target group, your materials, etc.
Several psychological studies indicate that colours on packaging have a major impact on consumers' choice of products, as well as the products they are intuitively attracted to. Colour is therefore an essential element of your communication and it is important to consider your choice of colour and what it signals.
The importance of text
Information and mandatory text on packaging must first of all be easy to decode. It is of the utmost importance that the product declaration and product description is a clear, informative text that is adequate for the purpose. To make the text easily digestible and delicious, the choice of font is also a relevant element to put effort into. Fonts help to communicate what consumers can expect from the product. A more text-heavy label can be simplified with a light and simple font. A simple font – combined with visual elements – would be preferable on FMCG products, for example.
Your packaging design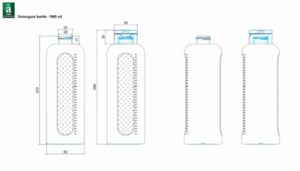 When it comes to packaging design, there are a myriad of options and we know it can seem overwhelming. At Packwise, we want to help you as best we can, so feel free to contact us here for a no-obligation chat. If you're interested in learning more about how we work with packaging design and development, we've selected a case that describes the process from initial idea to finished packaging solution. You can read it here.